Various Cement Production Lines Developed for Customers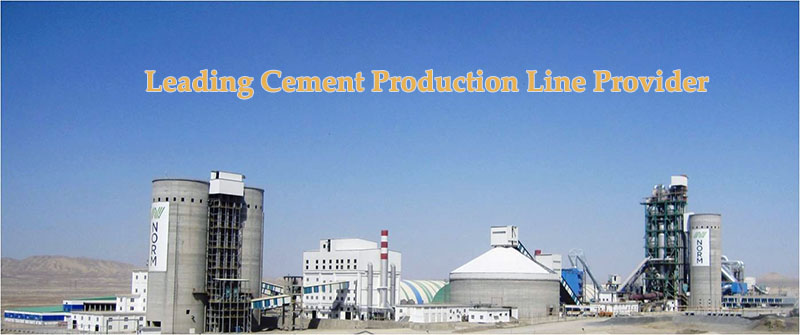 It is mainly divided into 3 stages of raw material preparation, clinker calcination and cement grinding It is commonly known as "2 miling and 1 burn". If the preparation of pulverized coal is included, it can be renamed as "3 miling and 1 burn".
Cement production can be divided into dry method (including semi-dry method) and wet method (including semi-wet method) according to different preparation methods of raw materials. Today's cement production mainly uses the new dry process cement production method. This production mode is mainly reflected in the preheating of the high temperature of the preheater and the high temperature of the exhaust gas before the raw material is put into the kiln. The calcium carbonate in the raw material is in the decomposition furnace. Nearly 90% of them are decomposed into calcium oxide.
Investment income
Gaw material grinding power consumption of the total electricity consumption by 30%, coal mill power consumption 3%, cement grinding power consumption accounted for 40%, a reasonable choice of grinding equipment is of great significance to ensure product quality and reduce energy consumption .
Cement final grinding program recommended:
Program recommendation
Option 1: Circulating Ball Milling System
Option 2: Combined grinding system
Option 3: Vertical grinding final grinding system
Cement variety
P·O42.5
P·O42.5
P·O42.5
Cement ratio %
Clinker
90
90
90
limestone
5
5
5
plaster
5
5
5
Cement specific surface area, cm2/g
3500
3500
3500
System output, t/h
170
160
160
System power consumption, kWh/t
41
33
28
Annual electricity saving (10,000 yuan)
-
400
700
Metal wear, g/t
50 (steel ball)
30 (steel ball + roll surface)
5 (grinding roller + grinding disc)
Drying ability
weak
medium
Strong
Investment estimate, 10,000 yuan
1 construction project fee
417.76
545.07
447.02
2 equipment fee
2977.72
3360.08
4224.26
3 installation engineering fee
352.22
500.88
318.89
Total system investment
3747.70
4406.04
4990.18
Conclusion: Vertical grinding has become the mainstream equipment for cement production. Compared with the other two schemes, the annual energy consumption can save more than 7 million, once and for all.
Cement Production Process Overview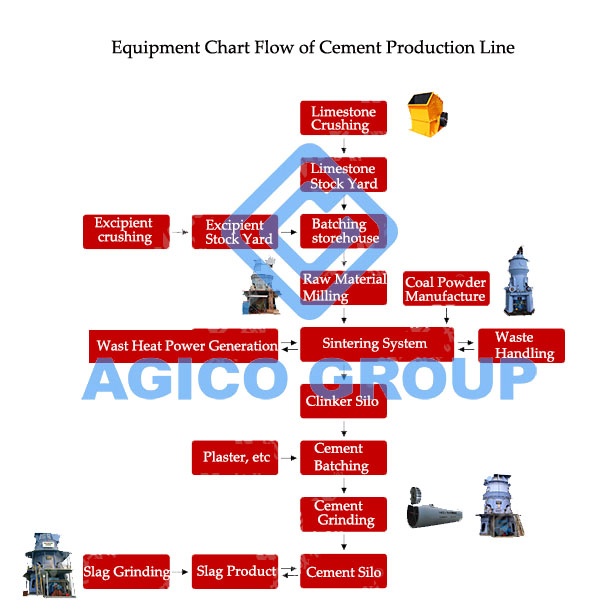 AGICO Cement Equipment Advantages
Providing EPC general contracting/turnkey service
Since the establishment, AGICO has been engaged in research and development and innovation of large-scale cement kiln grinding equipment, and has formed a complete design and development, product manufacturing, marketing, equipment installation and after-sales service. The production management system provides the general contracting and turnkey engineering services for the design, manufacture, installation, commissioning and production of cement production lines for many customers at home and abroad.
Grinding equipment, original spare parts independent research and development production
Whether it is raw material grinding or clinker grinding, whether it is rotary kiln or ball mill, AGICO can be manufactured according to customer needs, product safety and reliability, intelligent, environmental protection High, it is used in many cement plants across the country.
It is worth mentioning that AGICO has its own large-scale spare parts processing base, so it can provide any parts, electric control cabinets, oil stations, etc. on the mainframe, which completely solves the trouble for customers to go around and purchase matching equipment. The customer realizes "choosing the Great Wall and producing no worries".
The cement production line has large production capacity and high degree of automation. It adopts the current domestic advanced distributed control system (DCS) to improve the automation level of the entire cement production line, achieve high-quality operation of the unit, and provide stability guarantee for the production of high-quality cement.
Advanced technology, power consumption is 20%-30% lower than ball milling combined process.
The production line adopts new dry process cement preparation process, which can reduce electricity consumption by 20%~30%, greatly reduce production cost and improve the comprehensive benefits of enterprises.
| Section | Unit cement power consumption, kwh/t | %, % | Description |
| --- | --- | --- | --- |
| Raw material grinding | 29.2 | 27 | Medium unloading drying mill |
| Pulverized coal preparation | 4.4 | 4 | Wind sweeping ball mill |
| Clinker burning | 22.4 | twenty one | Medium-scale production line |
| Cement grinding | 40.0 | 37 | Circulating ball mill |
| other | 12.0 | 11 | Raw material processing, cement packaging, etc. |
| total | 108 | 100 | |
The following figure shows the power consumption data of the vertical mill grinding system:
| Section | Unit cement power consumption, kwh/t | %, % | Description |
| --- | --- | --- | --- |
| Raw material grinding | 19.5 | 23 | Roller mill |
| Pulverized coal preparation | 3.3 | 4 | Roller mill |
| Clinker burning | 22.4 | 27 | Medium-scale production line |
| Cement grinding | 25.0 | 32 | Bed final grinding |
| other | 12.0 | 14 | Raw material processing, cement packaging, etc. |
| total | 84 | 100 | |