Different Working Principles of Crushing Equipment
Different types of crushers, the method of crushing materials are not the same. It is not a single method used in a crusher, but it is usually combined by two or more methods for crushing.
Extrusion: The material is broken by a slowly increasing pressure between the two working surfaces.
Grinding and stripping method: The shearing force applied when the material is rubbed by the moving work, or the shearing action when the materials are rubbed against each other, causes the material to be pulverized.
Splitting method: The material is crushed by the action of the wedge-shaped working body.
Impact method: due to the impact force, the material is pulverized. The impact force is generated by the impact of the moving working body on the material. The high-speed moving material impacts on the fixed working surface. The high-speed moving materials impact each other, and the high-speed moving working body Suspended material impact.
For example, the jaw crusher mainly adopts the extrusion method; the impact type and the hammer crusher mainly adopt the impact method; the roller crusher mainly adopts the extrusion method, and also applies the splitting and grinding and stripping methods.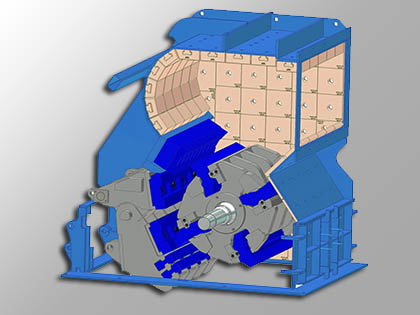 Hammer Crusher Drawing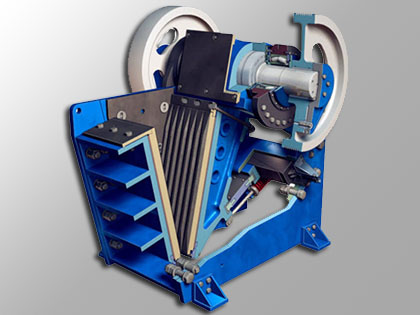 Jaw Crusher Structure Drawing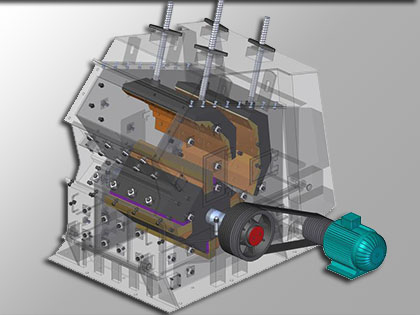 Impact Crusher Structure
How to divide the range of coarse, medium and fine
According to the size of the broken material:
Crushed: the feed size is 300-900mm, and the discharge granularity is 100-550mm;
Medium crush: the feed size is 100-350mm, and the discharge granularity is 20-100mm;
Finely divided: the feed size is 50 to 100 mm, and the discharge size is 5 to 15 mm.
What is granularity, what is the crush ratio?
The so-called particle size refers to the size of the material block, which is usually expressed by the number of millimeters of the largest side length of the block, and also by the mesh size or the percentage of the mesh through the sieve, but generally expressed by the maximum side length of the block. . The ratio of the feed size of the crusher to the output size after crushing is called the crush ratio, ie:
i=Dmax/dmin
Where: i—the breaking ratio;
D max --- the maximum particle size of the crusher feeding, mm;
d minimum————The minimum particle size of the material after crushing, mm.
The size of the crushing ratio is one of the important data for crusher selection. Different crushers have different crushing ratios.